Tomato sevai/ Thakkali sevai is a spicy and little tangy recipe where tomato and sevai/ rice vermicelli/ rice noodles act as key ingredients. Tomato sevai is a very easy and quick to make breakfast which can be prepared in just 15 minutes if you have instant sevai / rice vermicelli packet ready at home. This is an instant yet delicious breakfast made with few simple ingredients in hassle free procedure. Adding to the plus point it requires no side dish and can be relished as it is, so if you are looking for an easy yet quick recipe for your busy or lazy morning this could be a handy recipe. So lets get to the making!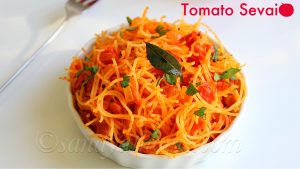 [sam id="1″ codes="true"]
Ingredients
Instant Sevai/ Rice Vermicelli – ¼ packet
Onion – 1
Tomato – 2 (Medium sized)
Green chilli – 2
Turmeric powder – ¼ tsp
Red chilli powder – 1 tsp
Coriander powder – ½ tsp
Salt – to taste
Curry leaves – a spring
Oil – 1 tsp
Mustard seeds – ½ tsp
Urad dal – 1 tsp
Chopped cilantro – 1 tbsp ( for garnish)
[sam id="2″ codes="true"]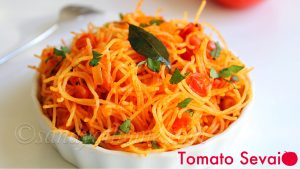 How to make tomato sevai with step by step images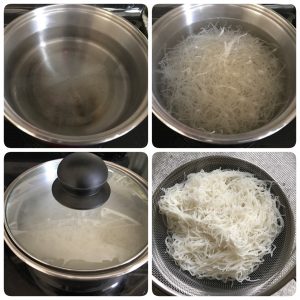 Heat water in a pot, add instant sevai to the boiling water. Immerse it in the water and put off the flame. Cover it with a lid for 2 minutes.
After 2 minutes drain the water from the sevai and keep it aside. ( You can refer to the backside of the instant sevai packet as well for cooking directions) Chop onions and tomato finely. Make a slit in green chilli.

Heat oil in a pan add mustard seeds, after it splutters add urad dal and channa dal, when dal turns golden brown add curry leaves, chopped onion and green chilli. Saute well until onions become translucent.

Now add chopped tomato, turmeric powder, red chilli powder, coriander powder and salt. Mix well and allow the tomatoes to get cooked. We want the tomatoes to be soft and not too mushy.

When everything looks combined and when the mixture looks thick in consistency add the instant sevai and mix well. Put off the flame and serve it hot!