Bonda mor kuzhambu/ Vada mor kuzhambu/ Majjiga pulusu is a flavorful vibrant colored buttermilk based gravy where urad dal bonda/ vada is drenched in it for more distinct taste. Adding coconut, ginger, toor dal and many other ingredients adds to the flavors and taste of this dish. Mor kuzhambu/ Majjiga pulusu can be prepared even with okra and ash gourd but adding bonda makes the kuzhambu/ gravy even more appetizing and it is usually accompanied best with rice and spicy fry.
This kuzhambu/ gravy has 3 different steps which is combined to make it delicious
Making of bonda/ vada
Grinding of a paste
Making of kuzhambu
So lets get to the making!
Sorry to all regular viewers of my blog, I couldn't update this recipe yesterday because the website was constantly hacked by some third party which got resolved only today. I hope this doesn't continue, but i will update the blog every alternate day from now, as i am sooper busy with a very important thing that will take place soon and i am running like a headless chicken, so bear with me.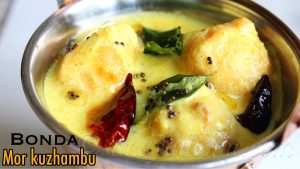 [sam id="1″ codes="true"]
Ingredients For bonda
Urad dal – 1 cup
Salt – to taste
Water – for grindng
Oil – for frying
Ingredients
Mustard seeds- ½ tsp
Dried red chilli – 2
Curry leaves- a spring
Tomato – 1
Turmeric powder – ¼ tsp
Salt – to taste
Curd – 1 cup
Water- 1 cup
Oil – 1 tbsp
Ingredients For grinding
Grated coconut – 1 tbsp
Raw rice – ½ tsp
Toor dal – ½ tsp
Cumin seeds – ½ tsp
Peppercorn – ¼ tsp
Green chilli – 1
Ginger – small chunk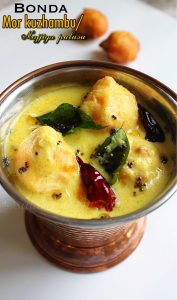 How to make Bonda mor kuzhambu with step by step images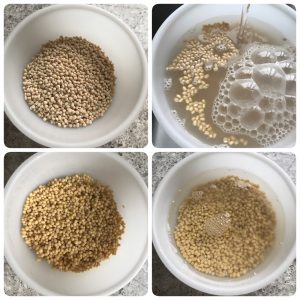 In a bowl add urad dal. Wash and soak urad dal in water for 3 hours.

After 3 hrs add the soaked urad dal in a blender and grind into thick batter using very little water. (I used around ¼ cup water while grinding) Transfer the ground batter to a bowl and keep it aside.

Now in another bowl wash and soak rice and toor dal together for 10 minutes. ( After 10 minutes discard the water or you can use it while grinding)

Now in a blender add grated coconut, green chilli, ginger chunk, cumin seeds, peppercorn and soaked rice and toor dal. Grind it into fine paste using little water.

Heat oil in a pan for frying. Take small portions of the batter and drop it in preheat oil one by one to form bonda. Fry the bondas until crispy and golden brown. When done remove from oil and transfer it to a plate with paper towel.

Heat 1 tbsp oil in a pan, add mustard seeds when it splutters add dried red chilli and curry leaves. Give it a stir and add tomato. Saute it well in oil.

Now add ground coconut mixture along with turmeric powder and salt. Mix well. Now add ½ cup water to it and mix well. Allow it to boil well.

Meanwhile in a bowl add curd, beat it well and add 1 cup water. Mix well and keep it aside. Now put the flame to low and add the buttermilk. Give it a good stir and put off the flame before it boils as it will curdle. Do not it.

Finally add the bondas in the kuzhambu/gravy and mix well. Serve it hot with rice!