Masala peanuts is a spicy masala flavored fried snack that is suitable to be accompanied along with hot tea/ coffee during winter or rain. Masala peanuts is prepared by frying flour and spices coated peanuts in oil until golden and crispy. This snack is very easy to prepare and does not take much time nor ingredients in its making. Today was a rainy day in CA and since it was a long weekend thought to make it for my hubby as he is a great fan of this snack. So if you are peanut lover never miss to try it. So lets get to the making!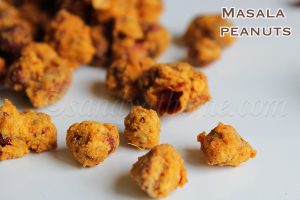 [sam id="1″ codes="true"]
Ingredients
Peanuts – 1 cup (with skin)
Besan flour – ¼ cup
Rice flour – 1/3 cup
Ginger garlic paste – ¼ tsp
Turmeric powder – ¼ tsp
Red chilli powder – 1 tsp
Garam masala powder – ½ tsp
Coriander powder – ½ tsp
Salt – to taste
Oil – for frying
[sam id="2″ codes="true"]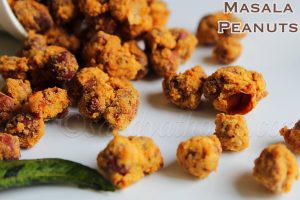 How to make masala peanuts with step by step images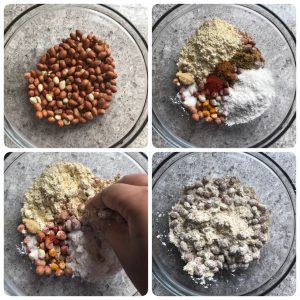 In a wide bowl add peanuts, besan flour, rice flour, ginger garlic paste, salt, turmeric powder, red chilli powder, coriander powder, salt and garam masala powder. Mix well.

Now sprinkle water gradually and start mixing in a way all the peanuts get well coated in masala and flour. Make sure to coat each peanut well and try to keep them separate from one another.

Now spread the flour coated peanuts in preheated oil and fry them in medium flame so in order to achieve even coloring and also cooked peanuts. (You can spread the peanut in oil either with your fingers or use a spoon depending upon your comfort and safety) Keep flipping them and when they look crispy and golden in color remove the fried peanuts in a slotted spoon and drain the excess oil in paper towel. Serve it with hot tea/ coffee!