Ennai kathirikkai kuzhambu is a spicy and tangy gravy prepared by cooking stuffed brinjal in tamarind juice and coconut mixture. Ennai kathirikkai is my all time favorite kuzhambu and have always enjoyed it in my mom's preparation. Though i have made it umpteen times after getting married i can never match my kuzhambu with my mom's preparation, though i use the same recipe given by her. This kuzhambu is very easy to make, though it involves few grinding. Ennai kathrikkai kuzhambu preparation differs for everyone so below is a style that is best loved by me and my family. So lets get to the making!
[sam id="1″ codes="true"]
Ingredients
Brinjal – 3 to 4
Tamarind – big gooseberry size
Onion – 1 small
Garlic – 2
Sambar powder – 2 tsp
Salt – as needed
Mustard seeds – ½ tsp
Cumin seeds – ¼ tsp
Fenugreek seeds – ¼ tsp
Sesame oil – 1 tbsp
Curry leaves a spring
Ingredients To roast and grind
Cumin seeds – ½ tsp
Coriander seeds – ½ tbsp
Dried red chilli – 2
Urad dal – 1 tsp
Channa dal – 1 tbsp
[sam id="2″ codes="true"]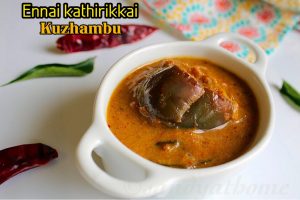 How to make Ennai kathirikkai kuzhambu with step by step images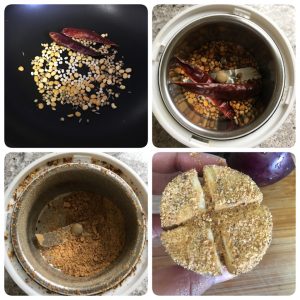 In a pan/ kadai dry roast cumin seeds, coriander seeds, red chilli, channa dal and urad dal in medium flame until golden brown and aromatic.
Allow it to cool down and grind it into fine powder in a blender and transfer it to a bowl. Slice onions thin and make 2 slit in each brinjal perpendicular to each other. Now stuff the brinjal with ground powder and keep it aside.
Soak tamarind in water and extract tamarind juice. Keep it aside.

Now take a blender add grated coconut and grind it into fine paste. Keep it aside.

Heat oil in a pan add cumin seeds, after it crackles add mustard seeds and fenugreek seeds, after it splutters add curry leaves, garlic and sliced onion. Saute well. Now add stuffed brinjal in it one by one and flip them gently so that it gets roasted in oil a little. Now add tamarind extract, sambar powder and salt to it. Mix gently and let the brinjal get cooked.

When the brinjal is 3/4 th done add the coconut mixture in it and give it a good stir. When the mixture boils and when kuzhambu consistency is achieved put off the flame and serve it hot with rice.