Sprouted moong are germinated from green gram dal. They are a good source of protein and has lot of other nutritional benefits. Sprouted moong biryani is a spicy and flavorful biryani where rice is cooked in spicy onion, tomato and moong mixture. This biryani is easy to prepare and very healthy too. This biryani is always my first choice and also my favorite when it comes to quick biryani cooking. This recipe requires no preparation and grinding. So lets get to the making!
[sam id="1″ codes="true"]
Ingredients
Basmati rice – 2 cups
Sprouted moong – 1 cup
Onion – 1
Tomato- 1
Green chili- 2
Mint – ½ cup
Cilantro – ½ cup
Ginger garlic paste- 1 tsp
Red chili powder- 1 tsp
Garam masala powder- ½ tsp
Coriander powder- ½ tsp
Oil – 1 tbsp
Salt to taste
Whole spices
Bay leaf – 1
Star anise – 1
Clove – 2
Cinnamon stick – ½
Cumin seeds – 1/4 tsp
[sam id="2″ codes="true"]

How to make sprouted moong biryani with step by step images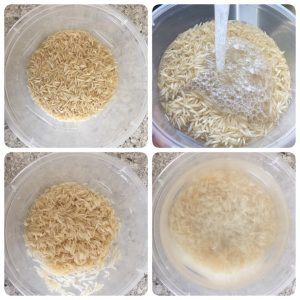 Wash and soak rice in water for 20 minutes. Slice onions thin, chop tomatoes, cilantro, mint and make slit in green chili and set aside.

Heat oil in a pan add whole spices when aromatic add sliced onions and green chili ; Saute well. Now add ginger garlic paste to it and saute until the raw smell goes.

Now add chopped mint and cilantro to it and saute till they shrink. Now add chopped tomatoes to it along with all the dry powders including salt and saute well.

When the tomatoes become mushy add sprouted moong to it and mix everything well, then add soaked rice and water and transfer it to electric rice cooker and cook till done.( If using pressure cooker cook for 3 whistles).

When the rice is done take it gently from the sides. Serve it hot with onion raita!

Notes
Always remember to soak rice before making biryani. This will help achieve long grains.
Shen the biryani is done allow it to rest for 5 minutes and then take the rice from the sides. This method will help the grain to be retain its shape textured.