Paneer pinwheel is a crispy and quick yummy snacks made by frying paneer stuffed pinwheel shaped dough. This recipe and preparation is similar to paneer paratha but takes a little twist in the end. This recipe is easy to make and will be ready in no time. So lets get to the making!
[sam id="1″ codes="true"]
Ingredients for dough
Wheat flour – 1 cup
Oil – 1 tsp
Salt – as needed
Water to knead dough
Ingredients for stuffing
Shredded Paneer – 1cup
Red chili powder – ½ tsp
Garam masala powder – ½ tsp
Chopped cilantro – 1 tbsp
Cumin seeds – ¼ tsp
Salt to taste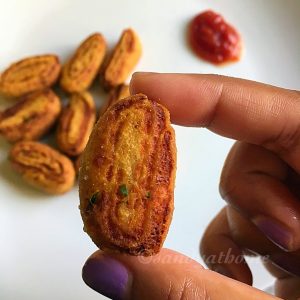 [sam id="2″ codes="true"]
Directions

Make a soft dough using wheat flour, salt and oil.

Ina bowl add shredded paneer, cumin seeds, finely chopped cilantro, salt, chili powder and garam masala. Mix well.

take a small piece of dough and flatten it a into circle.

Place the panner filling inside and start pleating. Flatten paneer stuffed dough ball into regular paratha.

Now fold the paratha from top and continue to fold till you reach the bottom.

Now take a knife and cut it into equal portion. Now make a gentle press with your fingers on each pinwheel to flatten it.

Heat oil in a frying pan and slide the pinwheel one by one and cook them in medium flame. It will turn brown fast. Once they become golden brown transfer it to a plate with paper towel to drain excess oil.
Serve it hot with tomato ketchup.