Fried modak is a delicious deep fried sweet recipe with chewy coconut jaggery filling and crunchy exterior made with wheat flour dough. This recipe is usually made during Ganesh chaturthi. This recipe is easy to make though the pleating might take a little practice, but no worries even I have not mastered it yet. Below is the video for pleating and frying which might make it little easy to understand. So lets get to the making!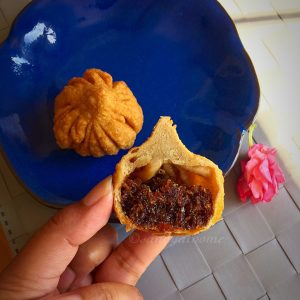 [sam id="1″ codes="true"]
For outer layer
Wheat flour – 1 cup
Salt a pinch
Oil – 1 tsp
Water for kneading
For stuffing
Coconut – 1 cup
Jaggery – ¾ cup
Ghee – 1 tsp
Cardamom powder a pinch
Pleating and frying modak
[sam id="2″ codes="true"]
How to make fried modak with step by step images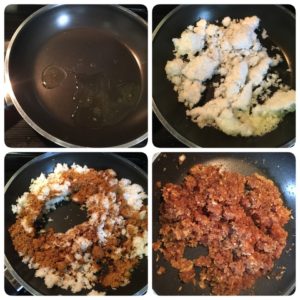 Heat ghee in a pan add coconut and saute for few seconds then add jaggery and cardamom powder to it and mix well. Let the jaggery melt and when the mixture becomes thick and has poornam appearance remove from flame and allow it to cool. (Make sure the stuffing is not wet).

In a bowl add wheat flour, salt and oil. Mix well and add water gradually to form soft dough. Let the dough rest for 10 minutes.

Now take a small portion of dough and roll it into small circle ( poori size). Now place the coconut filling in the center of the dough. Now start pleating the sides of dough. Bring all the pleating to the center and pinch off the excess dough and make a sharp edge like cone.

Heat oil in a pan and slide each modak carefully. Fry them in medium flame until golden brown and transfer it to a plate with paper towel to drain excess oil. Serve it hot!