Paal poli is a delicious and rich sweet recipe prepared by drenching fried maida poori in milk mixture. Paal poli is my favorite sweet recipe since childhood and is made often during my birthdays at home. I am glad that got an opportunity to share this age old recipe (grandma's recipe) in my blog. This recipe requires grinding of nuts and sugar but it is very simple and easy to make. So lets get to the making!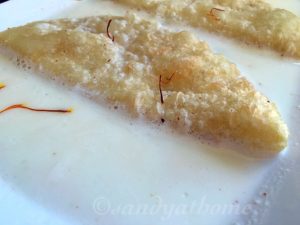 Ingredients
Milk – 3 cups
Water – ½ cup
Cardamom powder – ¼ tsp
Saffron strand a pinch
Ingredients for making poori
Maida – 1 cup
Oil – 1 tsp
Salt a pinch
Water to need dough
Ingredients for grinding
Cashews – 6 to 8
Almonds – 6 to 8
Sugar – ½ cup
How to make paal poli with step by step images

In a bowl add maida, salt and oil. Mix everything well and add water gradually to form a soft dough. Allow the dough to rest for 20 minutes.

Meanwhile in a blender add sugar, almonds and cashew. Grind it into fine powder.

Heat milk in a pot adding little water. When the boils add the powders nuts and cardamom powder in it. Mix well and put off the flame after one boil.

Heat oil in a frying pan. Now pinch a small portion of dough and roll it into poori with a a rolling pin and slide it in hot oil. Fry it just like regular poori but make sure not to brown them just pale white is fine. Transfer the poori to a plate with paper towel to drain excess oil.

Now fold the poori and arrange it in a plate and pour the boiled milk mixture over it in such a way the poori should drench in milk. Garnish it with saffron strand. Allow the poori to soak in hot milk for 10 – 15 minutes and serve it.

Notes
Preparing everything side by side helps fasten the making of this recipe.
Make sure the milk is hot enough which helps in soaking poori.
Poori should not turn golden color as it will change the taste. So take them from oil as quick as possible.
Sugar mentioned in this recipe is according to my family, you can alter the measurement.