Gyoza are Japanese version dumplings similar to Chinese. Gyoza is pan fried dumpling consisting of stuffing with veggies or meat and differs from Chinese dumplings for its garlic flavor. I made this recipe in Desi version so everyone can make an attempt. You don't have to run to the stores in search of these items as I have prepared it with things that are easily available at home. The gyoza wrappers used in the recipe are also homemade with easy step by step pictures. So lets get to the steaming!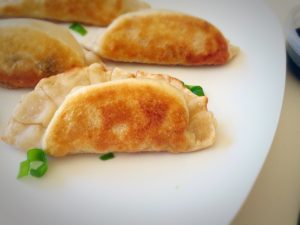 [sam id="1″ codes="true"]
Ingredients for wrappers
All purpose flour – 1 ½ cup
Hot water – ½ cup
Salt to taste
Cornstarch for dusting
For stuffing
Chopped Onion – 1 cup
Chopped Garlic – ¼ tsp
Chopped Ginger – ¼ tsp
Chopped spring onion – 1 tsp
Shredded Paneer – ½ cup
Red chili flakes – ¼ tsp
Salt to taste
For cooking
Oil – 3 tbsp
Water – ¼ cup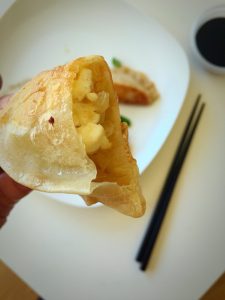 [sam id="2″ codes="true"]
How to make Gyoza dumplings with step by step images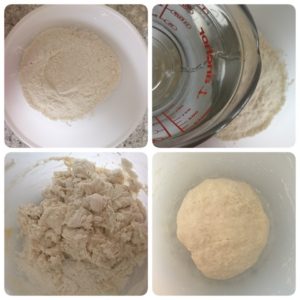 In a bowl add all purpose flour, salt and hot water. Mix all the ingredients and knead it into a soft dough and let the dough rest for 2 hours.

Heat oil in a pan add chopped onions, garlic, ginger, chili flakes and spring onions. Saute well for 1 to 2 mins and put off the flame. Now add grated paneer and mix everything well and transfer it to a bowl. Allow the mixture to cool down then add salt and mix well.( Make sure not to make the stuffing soggy).

Now take small ball of dough and flatten it into small circle with thickness of 1 to 2 cm. (Using corn starch for dusting makes the wrappers non sticky))

Then place the stuffing in the centre. Fold the wrapper in half over the filling then pleat them just like momos.

Now heat oil in a pan and place the gyoza one by one. Cover it with a lid and cook for 2 minutes then add ¼ cup water to it and cook it with lid on. After the water has evaporated completely remove from heat.
Serve it with soy sauce!