Bread kuzhi paniyaram is a easy and tasty dish prepared by steaming batter using special vessel consisting mold. It can be made in both sweet and savory versions. But this recipe is savory dish and can be made either with fresh bread or left over ones and also tastes different from regular ones. Trust me no will find its bread kuzhi paniyaram / guntapongalu unless you tel them. So lets get to the making.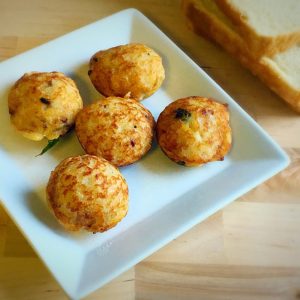 Ingredients
Bread – 6 slices
Rice flour – 4 tbsp
Semolina / sooji – 1 tbsp
Curd – ½ cup
Onion – 1
Small Carrot – 1
Green chili – 1
Mustard seeds – ½ tsp
Urad dal – ½ tsp
Oil – 2 tsp
Salt as needed
Curry leaves a spring
How to make bread paniyaram with step by step images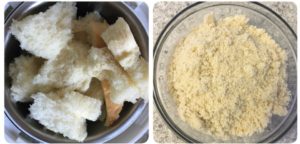 Make the bread slices into small pieces. In a blender add the bread pieces and make it into bread crumbs.
In a bowl add bread crumbs, curd, rice flour, semolina / sooji and salt then mix everything well.
Combine everything well and add water gradually to make it into thick batter.
Chop onions and green chili; shred the carrots and keep it aside. Now heat oil in a pan add mustard seeds, after it splutters add urad dal, after it turns golden brown add curry leaves, onions and saute for a minute then add shredded carrots and saute for a minute.
Now add this to the bread batter and mix well.
Now take kuzhi paniyaram pan smear some oil and add batter in each mold.
Now cover it with lid and cook. Then remove the lid and flip each one gently and cook till done. Now transfer it to a plate.
Serve it hot!