Avarakkai sambar / val papdi sambar was one my favorite sambar when i was pregnant and i made it every week throughout my pregnancy. I love to prepare it with fresh avarakkai but i seldom see it here in stores. Even for the below recipe i have used frozen avarakkai but even then its flavours and taste has not subsided. So lets get to the recipe!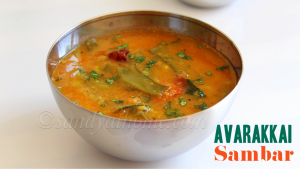 [sam id="1″ codes="true"]
Ingredients
Toor dal – 1/2 cup
Small onion – 1
Tomato – 1
Avarakkai – 1 packet
Garlic – 2 pearls
Chili powder – 1/2 tsp
Coriander powder – 1 tsp
Sambar powder – 1 tsp
Turmeric powder – 1/4 tsp
salt – to taste
Tamarind – gooseberry size
Ingredients
Oil – 1 tsp
Mustard seeds – 1 tsp
Fenugreek seed – 1/4 tsp
Curry leaves- a spring
Hing – a pinch
[sam id="2″ codes="true"]
How to make Avarakkai sambar with step by step images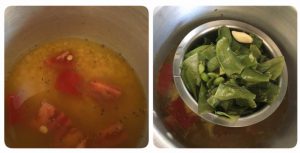 Wash toor dal and keep it aside. Now chop the val papdi/ avarakkai, onion and tomato.
Now in a pressure cooker add the washed toor dal, tomato, cumin seeds, turmeric powder, salt and add water.
Now in a small bowl add chopped onion, garlic and val papdi/ avarakkai in it and place it in the cooker onto the dal. After 3 whistles put off the flame and wait for the pressure to release.
Now take the small bowl from the cooker and mash the dal , then add the cooked val papdi/ avarakkai and onion to the mashed dal.
Now add tamarind juice along with chili powder, coriander powder and salt to the mashed dal and bring to boil and put off the flame .
Heat oil in a small pan and add mustard seeds, fenugreek seeds, curry leaves and hing. when dal turns golden brown remove from flame add it on to the sambar. Serve the sambar hot with rice.