Aloo paratha is one such easy and quick to make yummy breakfast that is relished with curd, pickle and few sips of hot tea/ chai. Aloo paratha the stuffing can be prepared in different ways but the one posted here is my favorite and my mom makes it that way. Aloo paratha is so close to my heart since it is the first paratha with stuffing I learnt to prepare. I still remember the first time when I made it, all the stuffing came out and the paratha tore. But even then my family relished it without any hesitation. Since then I kept trying and finally one day got it right. This delicacy does not need any side dish according to me since I like it just as it is but a dip in the curd and pickle shall make it more yummy. I love them when they are made thin and i make it that way. So lets get to the making!!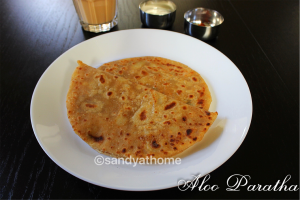 Ingredients for dough
Wheat flour – 1 1/2 cup
Salt – 1/4 tsp
Oil – 1 tsp
Water – 1/2 cup (approx.)
Oil- for making paratha
Ingredients for filling/ stuffing
Boiled potato – 1 (big size)
Chopped cilantro – 1 tbsp
Chili powder – 1/2 tsp
Garam masala powder – 1/2 tsp
Salt – to taste
How to make aloo paratha with step by step images

Take a bowl and add wheat flour, salt and oil. Mix well and add water gradually to form a soft dough. (Keep the dough aside for 20 minutes.
Meanwhile mash the boiled potato with a masher. To the mashed potato add salt, chili powder, garam masala powder and cilantro. Mix it well and keep it aside.
After 20 minutes divide the dough into equal portions. Roll the dough into a small circle then place potato stuffing in the center and start pleating the dough. Make sure that the stuffing is of the same quantity of dough otherwise the filling will come out when rolling. Now dust some wheat flour and roll them as thin as possible.
When the tava is hot enough lay the rolled paratha and drizzle some oil. When you see brown spots on one side flip the paratha to the other side , when it is done transfer it to a plate. Aloo paratha tastes delicious when served hot.