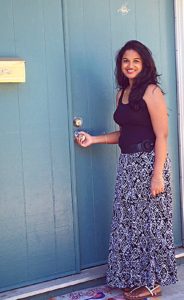 Thank you for taking a moment to know about me. I am Sandhya born to telugu parents in Pondicherry and was brought up in Sharjah. My native is Thraksha Rama ( Andhra Pradesh) but I have visited only once during childhood, but I remember my parents telling me the place has beautiful temples. My cooking inspiration is partly from my mom as I have never seen her taking off from cooking any day. She always makes delicious and tasty foods specially new experiments and trust me for my critics which I think inspired me in a way.
My dreams about my life began only after I fell in love with an awesome person Riyaz Ahmed and due to lot problems I got married to him during my college days. So I started my life in a grim situation with lot of curse but I dint bother as I was happy that I had my hubby with me.
When we were pushed out of his house all we had was only his job. So we came to chennai from his hometown and started our life filled only with love forgetting all our problems and hard times. My husband is my biggest support, my everything who always treated me as his child and respected me well whatever the situation may be and has been in all my tough situations. With him hours pass like seconds and thus years.
After 3 years of our marriage came a twist or can I name it surprise? Yes a visit to United states of America regarding work (client onsite). I accompanied him in travel in business visa. So that visit changed our life and in 2013 we came to USA in work visa. I never knew life can be so beautiful in our dream place. So lot of shopping, lot of traveling, chattering and so on it was.
After 2 years i.e, in 2015 we had our little angel Anahita in California. My labor and post pregnancy was taken care by my husband, he is the world's best gift that me and my daughter could ever receive in our lifetime. He has played the role mom for me and my daughter. Now after all the struggles and problems I am glad that we own a house in California and I happily live in my beautiful nest filled only with my 2 sweethearts my hubby and daughter.
I have always been a fussy child while it comes to eating as I dint care much about what went into my stomach. My passion for cooking began because of my husband as he is a foodie lover. I love cooking and he lives eating , good combo right? I wanted to start a blog from a very long time may be when I started getting lot of compliments from friends and family but I don't know what pushed me suddenly, may be a long break from trying and experimenting new recipes since my pregnancy made me start a blog now. I write my recipes anytime say without interrupting my family time and duties. Most of my recipes are everyday cooking and food preferred by my family, and I do cook recipes that are requested by my friends.
My hobby for gardening came only after we bought our own house. I must say about it, it's a townhouse with 3 bedroom upstairs, a garage and with a beautiful patio with all our plants. The soil is fertile there with direct sunlight and also a lot honey bees buzzing who help in pollinating the flowers. I love growing plants not only by sowing seeds, but also from kitchen scraps, veggies that are about to perish and are of no use in kitchen and long time leftover in refrigerator and vegetable trays. Mostly I make them productive and love seeing them grow into plants.
Other than cooking and gardening I do beta testing for Validately. I love buying and trying new makeup products and a lot of clothes according to the season. I learnt Carnatic music for 6 years( don't remember much now) and I do drawing and painting as well.
Now the verdict is, this blog with recipes and gardening is a gift to my daughter so that my recipes live through her after me. I remember my mom having recipe book written by my grandma which she gave her during marriage so she can continue the authentic recipes. But as years passed it tore, so now as technology has grown this blog will live forever with my daughter.
Subscribe to my newsletter to get updates about recipes and gardening. You can mail me at sandhya@sandyathome.com, and follow me on facebook page, instagram