Achari vegetable pulao is a delicious and interesting vegetarian pulao/ one pot meal prepared with veggies and pickle. Yes that's true that's why the pulao has its name called "ACHARI". This pulao has a perfect balance of taste and flavor of a regular pulao and pickle, basically you will have a feeling of eating pickle in a pulao/ pulao in a pickle. Anyone great fan of pickles and pulao here you go this recipe is for you guys.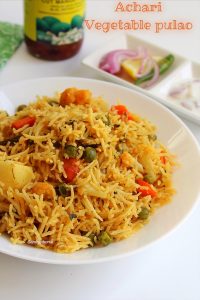 This is my husband's favorite pulao and trust me some years ago he had this variety of pulao in a restaurant called achari chicken pulao and used to always praise about its taste and distinctness. So I kept asking friends and browsed a lot and then came out with a recipe of a version that we liked. So here it is ACHARI VEG PULAO. You can actually make this pulao with the same spices used for making pickle or use the pickle directly to get the taste.
So in this recipe I have used cut mango pickle from "Priya brand" as mango pickle tastes good with/in pulao (according to me) but you can try any pickle of your choice. Also you can use chana/ rajma/ meat/ any veggies available with you/ just the plain ones (kuska) to make this easy one pot meal and you will truly enjoy it with a simple raita or curd as the pulao has tanginess, spiciness, saltiness and flavors from the pickle. So let's get to the making of achari vegetable pulao!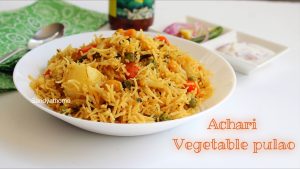 You may be interested in other recipes below: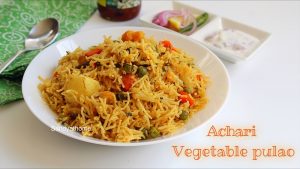 Achari vegetable pulao recipe, Achari pulao
2020-04-03 02:04:05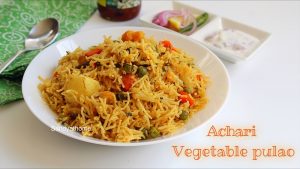 Serves 3
Ingredients
1. Basmati rice – 2 cups
2. Water – 3 cups
3. Carrot- 1
4. Beans – 8 to 10
5. Potato – 1
6. Cauliflower florets- 6
7. Green peas – ½ cup
8. Onion – 1 (large)
9. Mint / Cilantro – ¼ cup
10. Ginger garlic paste – 1 ½ tsp
11. Curd/ Dahi/ yogurt – 1 tbsp
12. Turmeric powder – ¼ tsp
13. Red chilli powder – ½ to 1 tsp
14. Garam masala powder – ½ to 1 tsp
15. PICKLE – 1 tbsp (mango or any pickle)
16. Salt – to taste
17. Oil – 2 tbsp
Whole spices
1. Bay leaf – 1
2. Cloves – 2
3. Cardamom – 1
4. Cumin seeds – ¼ tsp
5. Mustard seeds – ¼ tsp
6. Nigella/ Kalonji seeds – ¼ tsp (optional)
Instructions
Wash and soak basmati rice in water for 20 to 30 minutes. Chop all the veggies and keep it aside.
Now heat oil in a pan/ pressure cooker add whole spices, mustard seeds, cumin seeds, kalongi seeds when aromatic and saute well. When onions look sauteed add ginger garlic paste to it and saute until the raw smell goes.
When the raw smell of the ginger garlic paste is gone add salt, turmeric powder, garam masala powder and red chilli powder. Saute for few seconds.
Now quickly add the chopped veggies and saute well for 2 to 3 minutes so that it gets coated well in masala.
Now to the masala coated veggies add a tbsp of pickle and curd and mix well. Now add 3 cups of water and mix well. Allow the mixture to boil well. Thus should take about 5 minutes. When the water is boiling add chopped mint and coriander and mix well. Allow the mixture to boil well.
When the water starts boiling well add soaked rice and pressure cook for 2 to 3 whistles.
When the pressure has subsided wait for 5 more minutes and then open the cooker then fluff the rice gently and serve it hot with raita!
As shown in the picture I dint put the whistle so what I did was kept the flame in high for 4 to 5 minutes then put the flame to low for 10 minutes. After 10 minutes I switched off the flame snd allowed the rice to rest for 5 more minutes. So after 20 minutes open the pressure cooker when the rice looks done fluff gently from sides and serve it hot with raita.)
Sandhya's recipes https://www.sandyathome.com/
How to make Achari vegetable pulao with step by step images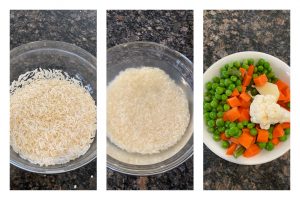 Wash and soak basmati rice in water for 20 to 30 minutes. Chop veggies and keep it aside.

Now heat oil in a pan/ pressure cooker add whole spices, mustard seeds, cumin seeds, kalongi seeds when aromatic and saute well. When onions look sauteed add ginger garlic paste to it and saute until the raw smell goes.
When the raw smell of the ginger garlic paste is gone add salt, turmeric powder, garam masala powder and red chilli powder. Saute for few seconds as masala will get burnt quickly. Now quickly add the chopped veggies and saute well for 2 to 3 minutes so that it gets coated well in masala.

Now to the masala coated veggies add a tbsp of pickle and curd and mix well. Here comes the true flavor.

Now add 3 cups of water and mix well. Allow the mixture to boil well. Thus should take about 5 minutes. When the water is boiling add chopped mint and coriander and mix well. Allow the mixture to boil well.

When the water starts boiling well add soaked rice and pressure cook for 2 to 3 whistles. When the pressure has subsided wait for 5 more minutes and then open the cooker then fluff the rice gently and serve it hot with raita. (As shown in the picture I dint put the whistle so what I did was kept the flame in high for 4 to 5 minutes then put the flame to low for 10 minutes. After 10 minutes I switched off the flame snd allowed the rice to rest for 5 more minutes. So after 20 minutes open the pressure cooker when the rice looks done fluff gently from sides and serve it hot with raita)