Baked vegetable biryani is an oven baked rich and delicious biryani where all the flavors are sealed within to make the biryani more appetizing and tasty. Baked vegetable biryani though the name might sound little new for some people it is quite easy and very simple recipe and as the name goes it is prepared with vegetables and basmati rice and packed with flavors of whole spices just like any other biryani. This biryani though a beginner recipe I have used different method to make it, in order to achieve maximum taste which you will get to know in the while reading the making. The whole recipe does not involve the use of oven but just the dum process will be done in oven yielding in a different taste and experience. This kind of biryani preparation can be done for festivals or when you have guests at home or just for your lovely family members if you wish to present new taste in your regular biryani. For the below recipe I used frozen mixed veggies that I bought from costco, but you can use any veggies of your choice to make this biryani. So lets get to the making!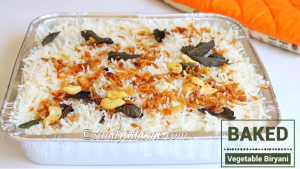 [sam id="1″ codes="true"]
Ingredients
Basmati rice – 1 ½ cup
Vegetables – 1 cup (carrot, beans, corn and peas)
Onion – 1
Ginger garlic paste – ½ tsp
Turmeric powder – ¼ tsp
Coriander powder – ½ tsp
Red chilli powder – 1 tsp
Garam masala powder – ½ tsp
Salt – to taste
Curd – 2 tbsp
Mint – ¼ cup
Oil – 1 tsp + 1 tsp (for greasing tray) + 1 tsp (for cooking rice)
Ingredients for garnish
Mint – ¼ cup
Fried onion – ¼ cup
Fried cashews – 6
Saffron strand – few
Whole spices
Bay leaf – 2
Star anise – 1
Clove – 4
Cinnamon stick – ½
Cardamom – 2
Fennel seeds – ½ tsp
Cumin seeds – ½ tsp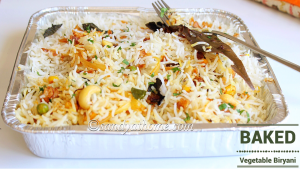 Note

* 1 cup = 160 ml


[sam id="2″ codes="true"]
How to make Baked vegetable biryani with step by step images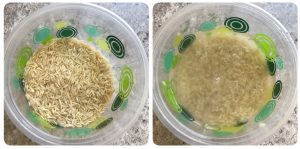 Wash and soak basmati rice in water for 20 minutes. I soaked rice in 1 cup water.

I used frozen veggies for this biryani, if you are using fresh veggies chop it and keep it aside. Heat water in a pot. When the water starts to boil add salt. Now add mixed veggies and allow it to boil.

When the veggies look ¾ th done drain just the veggies. Keep the water in the pot itself with flame on.

Now to the same water add mint leaves, half the quantity of whole spices, oil, some more salt. Mix well and allow it to boil. When the water is rolling boil add the soaked rice. Mix well and allow it to cook till it is 80% done. Drain the water and keep the rice aside.

Now heat oil in a pan add the remaining half of whole spices when aromatic add sliced onions and saute well. Now add ginger garlic paste to it and saute until the raw smell goes.

When the raw smell is gone add the cooked mixed veggies,turmeric powder, red chilli powder, coriander powder, garam masala powder and salt. Saute well for few seconds then add curd. Give it a good stir and saute for few seconds. We dont have to cook the veggies as it is already cooked so just sauteeing will do. Now put off the flame and keep the mixture aside. I always like my biryani to have separate grains so i made sure my veggie mixture to be as dry as possible. accordingly i cooked my rice, so if your veggie mixture is is watery cook rice accordingly in order to get perfect biryani. (I cooked the the veggie mixture while the rice was getting cooked in order to save time)

Preheat oven at 235F. Now grease a baking pan with few drops of oil. Add the veggie mixture as base layer then add the cooked rice. Now flatten it using a spatula.

Now add fried onion, mint, fried cashew and some saffron strands over the rice. Now cover the baking tray with foil paper.

Now place the baking pan in the preheated oven and bake for 15 minutes.

After 15 minutes take the biryani out and remove the foil paper. Fluff it gently using fork/ spatula. Serve it hot with raita of your choice!