Chocolate cupcake is a super soft, moist and mini sized yumminess that is usually adored by vast number of people. This chocolate cupcake is a very basic and quick to make recipe that can be prepared easily by anyone. Since this a basic recipe I thought to give it an interesting touch by topping the cake with basic glaze garnished with colorful sprinklers to make it appealing to the eyes and also to enhance the cakes taste. But it can be skipped as the cupcake will taste delicious just like that. So if you are organizing any party in the near future and looking for some quick and yummy hassle free cupcakes then this should do the job. So lets get to the making!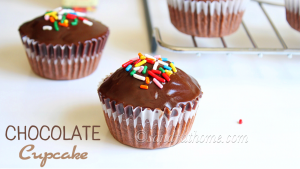 [sam id="1″ codes="true"]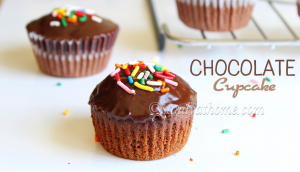 Ingredients
All purpose flour – 1 cup
Sugar – ½ cup
Cocoa powder – 3 heaped tsp
Baking soda – ¼ tsp
Baking powder – 1 tsp
Egg – 1
Oil – ¼ cup
Vanilla syrup – ½ tsp
Water – ¾ cup
Ingredients For chocolate glaze
Chocolate chips – ½ cup
Butter – 1 tsp
Milk – ½ tsp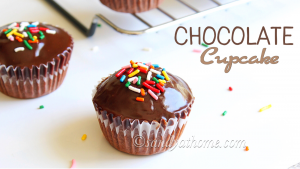 Note

* 1 cup = 160 ml


[sam id="2″ codes="true"]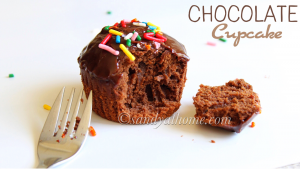 How to make Chocolate cupcake with step by step images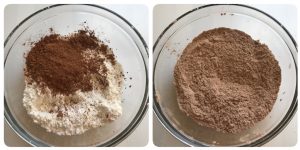 Preheat oven at 350F/180C. In a bowl add all purpose flour, baking soda, and baking powder. Mix well until combined.

In another bowl add sugar and oil. Mix well and until combined. Now add 1 egg and vanilla syrup. Whisk well until combined.

Now to the egg mixture add water. Mix really well until everything is well combined.

Now to this wet mixture add the flour mixture and mix well to form cupcake batter.

Place cupcake liners in a cupcake tray/ muffin tray. Now fill muffin batter in each cupcake liner. Fill only ¾ th portion of each cupcake liner. Now place it in the preheated oven and bake it for 25 minutes. Every oven is different so if it is not baked in 25 minutes bake for some more time.
When the cupcake looks done and puffed up insert a toothpick in the center of the cake, if it comes out clean the cupcake is done, if it has some batter then bake for some more time. Now when the cupcake looks done place it on a cooling rack for it to cool down.

In a microwave safe bowl add chocolate chip and butter. Microwave for 30 seconds.
Now in a another bowl add hot water. Keep the microwaved bowl on the hot water bowl and stir continuously until chocolate melts. Now add ½ tsp milk and mix well. Now basic chocolate glaze is ready.

Now gently add preferred amount of chocolate glaze over each cupcake using a spoon. I used 1 ½ tsp glaze for each cupcake. Now add sprinklers on the glaze and serve it!