Drumstick soup/ Murungakkai soup is a very yummy tasting and flavorful soup loaded with lot of health benefits. Drumstick soup a spicy and aromatic soup can be prepared very easily with handful basic ingredients in just 15 minutes aides in curing cold and sore throat helping all those people who avoid any syrup/tonic or medicine like my husband. This soup has been one such miraculous way to soothe all that cold or can be slurped in rainy season or in cold climate. Sinceit is getting colder these days with rain on and off, I thought sharing such an recipe might help all those soup cravers or for those looking for a simple yet quick and tasty way to get relieved from cold or sore throat or just wish to enjoy something hot to match up the climate in CA this soup could just make it better.
So what does this soup contain?
It has all that crushed pepper, cumin seeds and garlic along with the flesh/ pulp of drumstick to help digestion, relieve cold, flu and sore throat.
So lets get to the making of drumstick soup!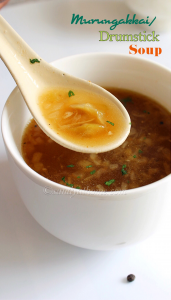 [sam id="1″ codes="true"]
Ingredients
Drumstick/ Murungakkai – 8 to 10 pcs/ 1 drumstick
Onion – 2 tbsp
Garlic – 1
Cumin seeds- ¼ tsp
Peppercorn – ½ tsp
Water- 2 cups
Salt – to taste
Oil- 1 tsp
Chopped cilantro- 1 tsp (for garnish)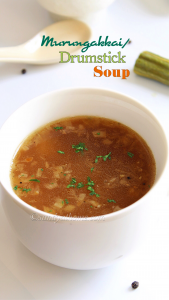 Note

* 1 cup = 160 ml


[sam id="2″ codes="true"]

How to make Drumstick soup with step by step images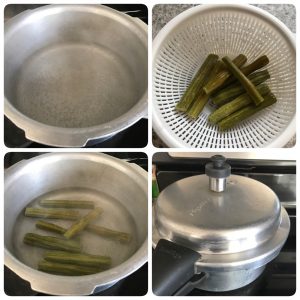 Heat water in pressure cooker, add salt and mix well. When it starts to boil add drumstick pieces and cook for 2 whistles.(If not using pressure cooker cook it in a pot of water with saltuntil drumstick get soft)

After the pressure has subsided open the cooker and drain the water in a bowl using a colander/ strainer and keep it aside as it contains all the nutrition which we will use in making soup. Allow the drumstick to cool a bit. When the drumstick is warm enough to handle open each drumstick and scoop of all the flesh/ pulp using a spoon and discard the outer green part.

Repeat the process till all the drumstick is complete. The green part should be left with no flesh. Keep the flesh aside.

In a hand mortar add peppercorn, cumin seeds and garlic. Using a pestle crush it coarse and keep it aside.

Heat oil in a pan/ cooker add chopped onion and saute really well. Now add the crushed peppercorn, cumin and garlic. Saute well for a minute or 2 till the raw flavor goes.

Now add the drumstick flesh/ pulp/ meat to it and mix well.

Now add the water with which drumstick was cooked along with salt. Mix well and allow it to boil well. After 2 to 3 minutes of boiling put off the flame and serve it hot with little cilantro as garnish!