Oats curd bath/ savory oats with curd is healthy, quick and instant recipe that can be prepared in no time with those everyday ingredients. Oats curd bath is more yummy and is healthier than curd rice and is one such super delish dish to serve in hot weather. Oats in seasoned curd/ yoghurt with flavors of ginger and cilantro, spiciness from green chilli and crunchiness from dal makes a great meal with any pickle. If you are a working women/ if you really want to cook a simple yet delicious dish loaded with health in just 10 minutes this could be handy recipe. I have seen my mom add little milk to the recipe which actually enhances the taste but I skipped it in the recipe instead added little water. So lets get to the making!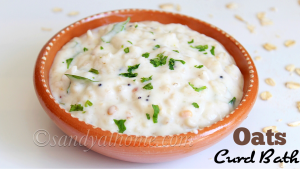 [sam id="1″ codes="true"]
Ingredients
Oats – 1 cup
Water – 1 ½ cup approx. (to cook oats)
Curd – 1 cup
Salt- to taste
Ingredients To temper
Mustard seeds – ½ tsp
Urad dal- 1 tsp
Oil – 1 ½ tsp
Green chilli- 1
Ginger- ½ tsp (chopped)
Curry leaves – a spring
Chopped cilantro- 1 tbsp
Hing- a pinch
Note

* 1 cup = 160 ml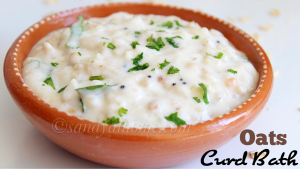 [sam id="2″ codes="true"]
How to make oats curd bath with step by step images
In a pan add oats and water. Mix well and allow it to boil and cook in medium flame. The mixture should look soggy and cooked. It is completely fine if it looks little watery. (I dint use instant oats so mine too 3 to 4 minutes to cook)
So when oats look cooked and soggy put off the flame and allow it get little warm.

Meanwhile in a bowl add curd and salt. Whisk it well and keep it aside.

Chop green chilli, ginger and cilantro. Heat oil in a small pan, add mustard seeds, when it splutters add urad dal when it turns golden brown add chopped green chilli, chopped ginger, curry leaves and hing. When aromatic add the mixture to the whisked curd.

Now add cooked oats to the curd mixture along with chopped cilantro. Mix well. To get nice flowing consistency add little milk/ water. Garnish it with chopped cilantro and serve it with pickle.