Whole wheat naan is soft, fluffy and delicious naan prepared in a super easy method, yes on stove top without adding yeast in the recipe. Adding kalonji seeds/ nigella seeds to the naan gives a delightful flavor and makes it more appetizing. This easy naan recipe and method yields very soft and oven baked or tandoor effect and no one will even find it that it was made on tawa. In the below recipe I have mentioned the exact measurement of everything that I used to get these perfect naan and also I used the same cup for measuring every ingredients mentioned with cup. I preferred to roll the naan in traditional tear shape/ oblong shape which can be replaced with any shape of your choice and kalonji seeds can also be skipped according to your preference. I have been making naan in this stove top method for years and has never failed to give perfect result so my dear beginner friends this hassle free recipe is for you guys. So lets get to the making!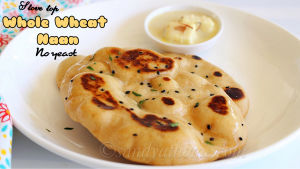 [sam id="1″ codes="true"]
Ingredients
Wheat flour – 1 ½ cup
Baking powder – ½ tsp
Baking soda – ½ tsp
Curd – ½ cup
Milk – ½ cup
Water – 1 tbsp
Oil – 1½ tsp (for kneading dough)
Salt – to taste
Kalonji seeds – 1 tbsp ( for garnish)
Chopped cilantro – 1 tsp (for garnish)
Oil/ butter – for making naan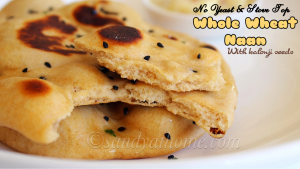 Note

* 1 cup = 160 ml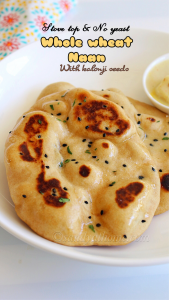 [sam id="2″ codes="true"]
How to make whole wheat naan with step by step images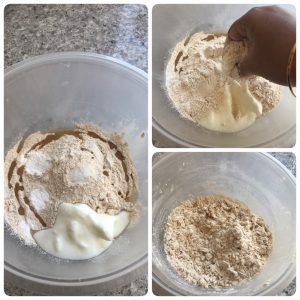 In a wide bowl add wheat flour, baking powder, baking soda, oil and curd. Mix well.

Now add milk and water gradually to form a soft non sticky dough. Knead for for about 2 minutes and soft dough will be achieved. Cover the dough and keep it aside for 3 to 4 hours.

After 3 to 4 hours the dough will rise a bit. Now pinch a medium size dough ball and flatten it into tear shaped or round shaped naan using a rolling pin. Flatten it just like regular chapati.
Now spread ¼ tsp kalonji seeds on the top of the rolled dough and roll it once gently using rolling pin so that seeds are embedded in it. Repeat the whole process till you finish all the dough.

Heat a tawa and when the tawa is really hot place the flattened naan dough and then put the flame to medium. Do not press it or flip it within few seconds you will be able to notice the naan fluffing well (as shown pic 2) at that point drizzle some oil around it and flip it gently.
After flipping do not press it let the naan fluff again, then when you find brown spots in both sides transfer it gently to a plate. Smear some butter on it for glossy look and garnish it with some chopped cilantro fir added flavor and taste. Serve it hot with any curry if your choice

Notes
Make sure to knead a soft non sticky dough by adding milk and water gradually.
Allow it to rest for 3 hours which is a must to attain desired result.