Green egg biryani is spicy, flavorful and very aromatic biryani prepared using traditional seeraga samba rice which is very famous in Tamil Nadu for preparing biryani. The biryani prepared with this small rice variety is very tasty as the rice its has its own flavors and taste. Green egg biryani appears green in color as the name goes and is also prepared with 2 greens namely mint and cilantro which acts as the key paste and ingredients to its deliciousness. Also there is no chilli powder in this recipe and the spiciness comes only from the green chilli.
Its been 5 years since I made any rice recipe using seeraga samba rice as it always turned flop earlier as the got little soggy, now after 5 years corrected my mistake and this method resulted in perfectly cooked rice. This time I dint soak rice and just after washing it I added to the boiling water, also I made this rice in dum style which helped each grain absorb the flavor from the gravy.
Shruthi dear thank you very much for this beautiful recipe and everyone loved it. So lets get to the making!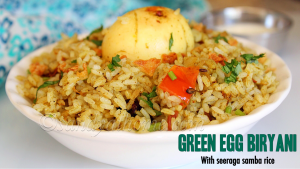 [sam id="1″ codes="true"]
Ingredients
Egg – 2
Seeraga samba rice – 1 cup
Onion – 1
Tomato – 1
Curd – 2 tbsp
Turmeric powder – ¼ tsp
Garam masala powder – ½ tsp
Salt – to taste
Oil – 1 tbsp
Ingredients For grinding
Mint – ½ cup
Cilantro/ coriander – ½ cup
Green chilli – 3
Ginger – 1 small chunk
Garlic – 1
Whole spices
Bay leaf – 1
Star anise – 1
Clove – 2
Cinnamon stick – ½
Cardamom – 1
Fennel seeds – ¼ tsp
Cumin seeds – ¼ tsp
Note

* 1 cup = 160 ml


[sam id="2″ codes="true"]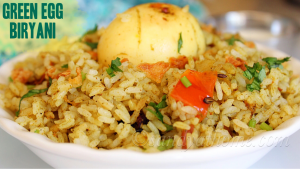 How to make green egg biryani with step by step images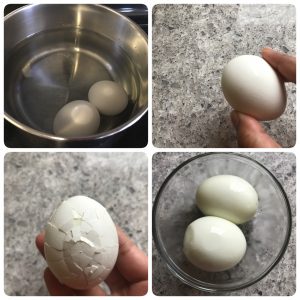 In a pot add water and gently place the eggs in it. Allow it to boil well and cook the eggs. When the eggs look cooked drain the water. When the eggs are warm enough to handle deshell the eggs and keep it aside.

In a blender add mint, cilantro/ coriander, ginger chunk and garlic. Grind it into fine paste adding very little water. Keep the ground paste aside.

Slice onion thin and chop tomatoes. Keep it aside.

Wash seeraga samba rice and keep it aside. In a pot add water and salt. Allow it boil well. When the water is in rolling boil add washed rice and cook half done. when the rice is half done drain the water and keep the rice aside.(I started cooking the gravy side by side while the rice was getting cooked)

Meanwhile heat oil in a heavy bottom pan add whole spices, when aromatic add sliced onion and saute well.

Now add the ground paste to the sauteed onions and mix well. Cook the mixture for a minute so the raw smell goes.

Now add chopped tomatoes, salt, garam masala powder and turmeric powder to it. Saute well and allow the tomatoes to get cooked. We don't want the tomatoes to be mushy as we will dum the biryani.

Now add and mix well, then add boiled egg and saute for a minute.

Now add the half cooked rice on top of this mixture and flatten it using a spatula. Cover it with a lid and keep the vessel on a dosa tawa and cook in high flame for 2 minutes and then in low flame for 15 minutes.

After 15 minutes open the lid and mix the rice and the bottom gravy together and serve it hot with raita of your choice! (I garnished it with fried onion which can be skipped)