Mushroom dum biryani is a one pot dish with loaded flavors and taste unlike regular mushroom biryani as it prepared by layering rice over cooked mushroom mixture and cooked in dum style which is the basic reason behind its taste. Though the ingredients list and written procedure looks bit long its super easy to make and also the ingredients are basic ones that is available in the pantry. For the below recipe i used store bought fried onion which can be replaced by homemade ones too. Try making this easy and lips making biryani to take a break from regular biryani. Below is the making video of mushroom dum biryani to make it easy for my beginner friends. So lets get to the making!
[sam id="1″ codes="true"]
Mushroom dum biryani making video
Ingredients
Mushrooms – 10
Mint – ½ cup
Onion – 1
Ginger garlic paste – 1 tsp
Turmeric powder- ¼ tsp
Red chilli powder – 1 tsp
Coriander powder – ½ tsp
Garam masala powder – ½ tsp
Salt – to taste
Fried onion – 1 tbsp + 1 tbsp (for garnish)
Fried Cashews – 5 (for garnish)
Fried Dry grapes – 6 (for garnish)
Saffron strands – for garnish
Cumin seeds – ¼ tsp
Oil – 1 tbsp
Whole spices
Bay leaf – 1
Star anise – ½
Clove – 2
Cinnamon stick – ½
Cardamom – 1
For making Rice
Basmati rice – 1½
Bay leaf – 1
Star anise – ½
Clove – 1
Cinnamon stick – ½
Cumin seeds – ¼ tsp
Mint leaves – 5
Oil – 1 tsp
Salt – to taste
Ginger garlic paste – ¼ tsp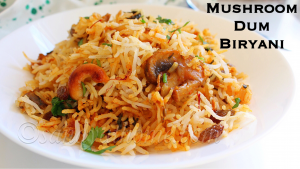 How to make Mushroom dum with step by step images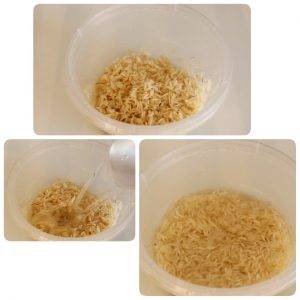 Wash and soak rice in water for 20 minutes.

Meanwhile heat oil in a pan, add cumin seeds, bay leaf, clove, cardamom and star anise. Give it a stir.

When aromatic add thinly sliced onion and green chilli. Saute well.

Now add ginger garlic paste. Saute well until raw smell of ginger garlic paste goes.

Now add chopped mint and saute till it reduces in quantity.

Now add chopped mushroom, turmeric powder, red chilli powder, coriander powder, garam masala powder, salt and fried onion. Mix well until mushrooms get coated in masala.

Now add curd and give it a good stir until combined with mushrooms.

Cover it with a lid and cook in medium flame with lid on. When the mushroom mixture is done put off the flame and keep it aside. The mixture should look thick like gravy. (I cooked both rice and gravy side by side to cut down time)

Meanwhile heat water in a pot, to it add cumin seeds, bay leaf, clove, mint, oil, salt and ginger garlic paste. Mix well and allow the water to boil.

When the water starts to boil add the soaked rice along with water.

Give it a mix and allow it boil well, so that the rice gets cooked.

When the rice is 80% done put off the flame and remove the rice using a strainer. Now add the 80% cooked rice to the cooked mushroom mixture.

When you are done with adding all the rice, just create a flat layer using a spatula and garnish it with fried onion, fried cashews and dry grapes.
Cook in low flame 10 to 15 minutes. I used a heavy bottomed non stick pan in order to prevent the bottom getting burnt. (You can place the pan or vessel on a preheated dosa tawa and then cook in low flame to prevent burning if bottom layer)

After 10 to 15 minutes put off the flame fluff the rice from the sides using a spatula. Serve it hot with any raita of your choice!