Filter Coffee is a drink popular in South India made by mixing frothy milk in decoction obtained by brewing coffee powder. Coffee can be prepared with instant coffee powder as well but filter coffee is more tasty and satisfying and boosts up the day. So lets get to the making!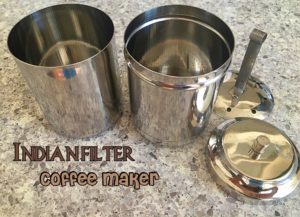 [sam id="1″ codes="true"]
To make decoction
Coffee powder – 3 tsp
Water- 1 cup
Sugar – ¼ tsp
To make coffee
Decoction – ¼ cup
Milk – 1 cup
Sugar as needed
[sam id="2″ codes="true"]
How to make south Indian filter coffee with step by step images

Heat water in a pan.Fit the top part ( the one with holes) of the coffee filter to the bottom part .

  Now add coffee powder and sugar. Then press the coffee powder with the presser provided or spoon.

Then pour water in it and close the top part with the lid and keep it undisturbed for 15 minutes.
When you see the coffee decoction dripping through the holes boil milk. In a cup/ tumbler add sugar then pour coffee decoction and then add milk in it. Mix everything well and serve it hot and frothy!