Tahini sauce originates from middle east. It is prepared using sesame seeds and is used to enhance or accompanied as condiment for many middle east food. This sauce is easy to make from scratch at home and can be prepared without any hassle. This sauce once prepared can be stored in refrigerator up to 2 weeks in air tight container .So lets grind it!
[sam id="1″ codes="true"]
Ingredients
Sesame seeds – 1 cup
Garlic – 3 pearls
Lemon juice – 1/4th cup
Salt to taste
Water – 3/4th cup (app.)
Oil – 1 tbsp (app.)
[sam id="2″ codes="true"]
How to make Tahini sauce with step by step images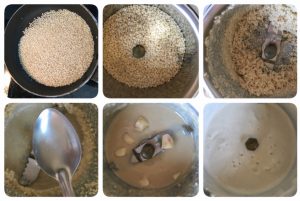 Dry roast sesame seeds in a small pan.
Then grind sesame seeds in a blender adding little oil.
Then add chopped garlic,lemon juice and salt in the blender and grind them into a paste. You can add litttle water while grinding. I used pulse mode in my mixie to make the sauce
Serve it with falafel and pita bread.