Couscous are granular semolina that resemble tiny beads is a staple food of Northern Africa. It is usually accompanied with any curry or gravy spooned on the top. I usually pick instant couscous from the store and pair it with chicken curry as it tastes bland on its own . It picks up its flavor with whatever you accompany as side dish or cook it with. This recipe can be prepared in 5 minutes and can be relished with any curry. So let's get to that!
Ingredients
Couscous – 1 cup
Water – 1 1/2 cup
Salt
Oil few drops
How to make Couscous with step by step images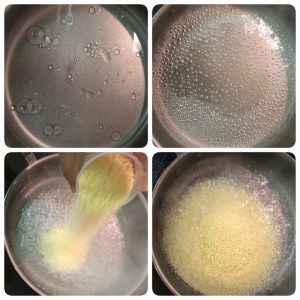 Heat water i a pan ; add few drops of oil along with salt and allow it to boil. When the water stats to boil add cous cous slowly and give it a gentle stir.
Switch off the flame and cover it with lid and leave it aside for 5 minutes.
After 5 minutes u will see puffed couc cous with seperated grains.
Serve it hot with chicken curry or gravy of your choice.