Pressure cooker chicken kurma is one such easy and quick to make coconut based thick gravy that can be served with umpteen dishes like parotta, rice, poori, chapati, pulao, idli, dosa, uttapam and with many varieties of biryani. I have already posted many varieties of kurma including a chicken kurma but the recipe is quite different from this one and it is not made in cooker. So thought to post a kurma recipe that is quick to make and also beginner friendly. Well, few of them asked me to post easy recipes that can be cooked in pressure cooker and I am working on it and this means the blog will witness lot of pressure cooker recipes that is useful for bachelor's, beginners and working mom's too. So if you are looking for a simple and delicious one pot dish/ gravy to make your Sunday meal special then try this recipe. So lets get to the making!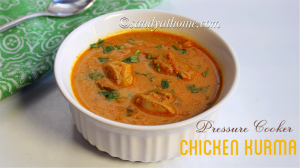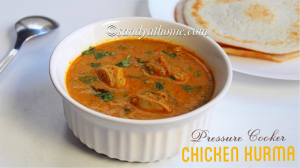 Chicken kurma recipe, Pressure cooker chicken kurma
2018-03-01 00:32:23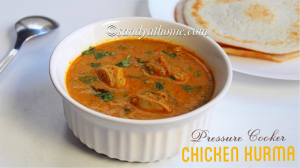 Serves 3
Ingredients
1. Chicken – ½ kg (clean, wash and chop)
2. Onion – 1
3. Tomato – 2
4. Ginger garlic paste – ½ tsp
5. Turmeric powder- ¼ tsp
6. Red chili powder – ½ tsp
7. Coriander powder – ½ tsp
8. Garam masala powder – 1 tsp
9. Oil – 1 tbsp
10. Salt – to taste
11. Chopped Cilantro - for garnish
Whole spices
1. Bay leaf - 1
2. Star anise - 1
3. Clove - 3
4. Cinnamon stick - 1
5. Fennel seeds - ½ tsp
6. Cumin seeds - ½ tsp
For grinding
1. Grated Coconut – ¼ cup
2. Cashew nuts – 1 tbsp
3. Green chilli – 1
4. Cumin seeds – ¼ tsp
5. Fennel seeds – ¼ tsp
Instructions
Chop onion and tomato finely. Keep the cleaned and chopped chicken aside.
In a blender add grated coconut, cashew nuts, cumin seeds and fennel seeds. Grind it into a fine paste adding little water.
Heat oil in a pressure cooker add whole spices when aromatic add chopped onions and curry leaves. Saute well and add ginger garlic paste to it. Saute well till the raw smell goes. Always keep the flame in low to medium while using pressure cooker as it the chances of burning and sticking to the bottom is high when the flame is high.
When the raw smell of ginger garlic paste has gone add chopped tomatoes, salt, turmeric powder, red chilli powder, garam masala powder and salt. Mix well and allow the tomatoes to get soft.
Now add the chicken pieces to the tomato mixture and mix well.
Now add the ground coconut paste to the chicken mixture and give it a good stir.
Now add little water to it and mix everything well. (I used 1 cup water to get kurma consistency as the kurma will thicken)
When the mixture starts to boil put on the lid with whistle and pressure cook for 2 whistles in medium flame. When the pressure has subsided open the cooker lid and mix well. Garnish it with cilantro and serve it hot!
Sandhya's recipes https://www.sandyathome.com/
How to make chicken kurma with step by step images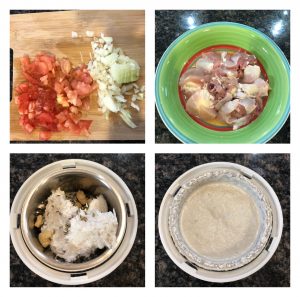 Chop onion and tomato finely. Keep the cleaned and chopped chicken aside. In a blender add grated coconut, cashew nuts, cumin seeds and fennel seeds. Grind it into a fine paste adding little water.

Heat oil in a pressure cooker add whole spices when aromatic add chopped onions and curry leaves. Saute well and add ginger garlic paste to it. Saute well till the raw smell goes. Always keep the flame in low to medium while using pressure cooker as it the chances of burning and sticking to the bottom is high when the flame is high.

When the raw smell of ginger garlic paste has gone add chopped tomatoes, salt, turmeric powder, red chilli powder, garam masala powder and salt. Mix well and allow the tomatoes to get soft.

Now add the chicken pieces to the tomato mixture and mix well. Now add the ground coconut paste to the chicken mixture and give it a good stir.

Now add little water to it and mix everything well. (I used 1 cup water to get kurma consistency as the kurma will thicken) When the mixture starts to boil put on the lid with whistle and pressure cook for 2 whistles in medium flame. Don't let it cook for more than 2 whistles as the chicken will break into tiny pieces as it gets cooked fast.

When the pressure has subsided open the cooker lid and mix well. Garnish it with cilantro and serve it hot! (I added little extra water and allowed it to boil for it for a minute again)