Makkan peda/ Arcot makkan peda is a sweet delicacy prepared with maida and khoya, stuffed with dry fruits and nuts soaked in sugar syrup is very popular in Arcot, vellore district of Tamil Nadu. So I got to know about this sweet from my hubby as he is also from vellore district the place where the sweet is very famous. The first time I tasted it from a sweet shop in tirupattur I felt that it was little similar to the taste of badusha but not exactly the same as it is little soft in texture and also hols stuffings, but I must admit that is one of the best makkan peda that I tasted till date from sweet stalls. Makkan peda is does involve little work in its making but not an cumbersome one, but we should remeber that most delicious do involve extra process just as this sweet, but the recipe uses mostly available basic ingredients in the kitchen. So today is very special day for me not only FATHER'S DAY but also ITS MY BLOG'S FIRST ANNIVERSARY! Hurray its been an awesome year of blogging and I am sure I will keep posting much more interesting and delish recipes in coming years. So this twin celebration calls for a sweet so prepared this today! For this recipe I used palkova made at home which can be replaced with unsweetened khoya too. So lets get to the making!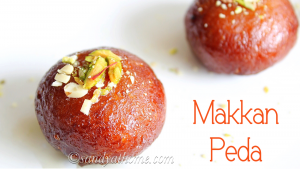 You can find the recipe of palkova and other sweets in the below links: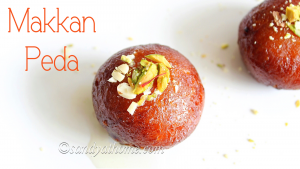 Ingredients
Maida – ¾ cup
Khoya – 1/3 cup
Ghee – 2 tsp
Milk – ¼ cup
Baking soda – ¼ tsp
Oil – for frying
Ingredients for sugar syrup
Water – ½ cup
Sugar – ¾ cup
Ingredients For stuffing
Cashews – 4
Dry grapes – 4
Almonds – 4
Pistachios – 4
Watermelon seeds – 10
Saffron – few strands (for garnish)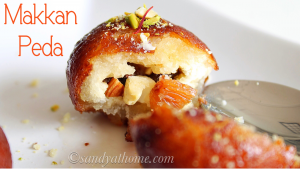 Note

* 1 cup = 160 ml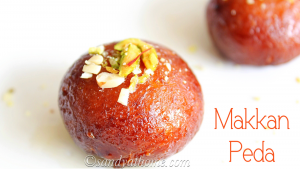 How to make arcot makkan peda with step by step images
In a wide bowl add maida, khoya, baking soda and ghee. Mix well.

Now add milk gradually to form a soft dough. Cover the dough and keep it aside for 10 to 15 minutes.

Meanwhile in a pot add water and sugar. Mix well and allow it boil in medium flame till it becomes a thick sugar syrup just like the syrup for gulab jamun. (I took around 6 to 8 minutes for me to get thick consistency) when the sugar syrup looks thick put off the flame and keep it aside.

Now heat oil in a frying pan. Divide the dough into equal size small balls. Chop all the nuts and dry fruits. Keep it ready to be stuffed.

Roll each dough ball flat meaning a small circle with a rolling pin. Now keep the stuffing in the center if the rolled dough and bring all the sides if the dough to the center to close it.

Seal it well and roll it once between your palms and then flatten it gently and keep it aside.

Repeat the process for all the dough balls. Now slide gently each of the stuffed dough and fry them in medium flame till it becomes brown in color just like gulab jamun. Do not fry them in too hot oil as they will either burn or achieve the desired outer color without getting cooked inside.

When they look done remove it from oil using slotted spoon and transfer it directly into hot sugar syrup allow to soak in it till they get little bigger in size. Now garnish it with chopped nuts and serve it!