Raw mango rice is a tangy and spicy rice recipe prepared by tossing cooked rice in tempered raw mango mixture. Raw mango rice is very easy to make recipe with its taste, look and procedure very similar to lemon rice. I still remember the days when my mom used to lie to me saying this was lemon rice to make me eat, as i never say no to lemon rice any day. So if you like lemon rice, then you will surely love this raw mango rice. So lets get to the making!
[sam id="1″ codes="true"]
Ingredients
Raw mango – 1
Cooked Rice – 1 ½ cup
Dried red chili – 1
Green chili – 1
Peanuts – 1 tbsp
Channa dal – 1 tsp
Urad dal- 1 tsp
Mustard seeds – ½ tsp
Turmeric powder – ¼ tsp
Hing – a pinch
Salt – to taste
Curry leaves a spring
[sam id="2″ codes="true"]
How to make raw mango rice with step by step images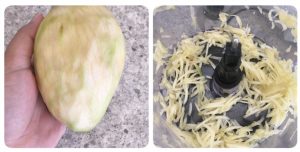 Peel and grate raw mango. Keep it aside.

Heat oil in a pan add dried red chili when aromatic add mustard seeds after it splutters add urad dal, channa dal, peanuts when dal turns golden brown add green chili add curry leaves after it turns crispy add grated raw mango and turmeric. Mix well and saute for 5 minutes in medium flame.

When the raw mango seems cooked add cooked rice and salt. Mix well and put off the flame. Serve it !