Masala pasta packed with veggies is a spicy and yummy recipe where cooked pasta is tossed in Desi style veggie mixture. Masala pasta is very easy to make and is a bliss for those who love both pasta and Indian food. I usually prepare this pasta for my hubby as he always prefers Indian food over other cuisines. This recipe has very basic ingredients in its making and requires no pre preparation. For this recipe I used elbow shaped pasta, you can use any pasta of your choice. So lets quickly get to the making!
[sam id="1″ codes="true"]
Ingredients
Pasta – 1 cup (elbow shaped)'
Garlic – 1
Onion – 1
Tomato – 1
Chopped carrot – ¼ cup
Cooked peas – ¼ cup
Chopped capsicum – ¼ cup
Chili powder – ½ tsp
Garam masala – ½ tsp
Salt – as needed
Oil – 2 tsp
[sam id="2″ codes="true"]
How to make masala pasta with step by step images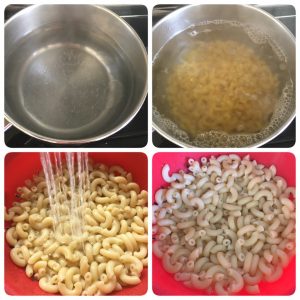 Heat water in a pan. Add salt and few drops of oil to the boiling water. Then add pasta in it and allow it to cook ( It took 12 minutes for me to get it cooked).
When the pasta is cooked drain the water from the cooked pasta and run it cold water and keep it aside. Chop onions, tomato and garlic.

Heat oil in a pan add chopped onion and garlic. Saute well then add add chopped tomato, red chili powder, garam masala powder and salt to it. Mix well and saute until the tomatoes become soft.
Now add the chopped carrot, capsicum and cook peas. Mix everything well and saute well. Allow the carrots to get cooked without adding water.

When the veggies are cooked add cooked pasta and mix well. When everything is well combined put off the flame and serve it hot!