Oats garlic naan is an easy to make and healthy flatbread with garlic and cilantro as topping. It is prepared by combining ground oats powder and wheat flour into dough, then flattened and toasted on tava. For this recipe I have not used yeast and replaced it with baking soda, baking powder and curd. Oats garlic naan with below recipe will be super soft, have texture similar to regular naan and will look light brown in color. Oats naan is very easy to make and tastes best with any gravy or curry. I chose oblong shape for my naan, you can flatten it into any shape of your choice. So lets get to the making!
[sam id="1″ codes="true"]
Ingredients
Wheat flour- 1 cup
Oats powder – ½ cup
Curd – ½ cup
Milk – 2 tbsp
Baking soda – ½ tsp
Baking powder- ½ tsp
Salt – as needed
Oil – 1 tsp
Oil/ butter for naan
Ingredients for Toppings
Chopped garlic – as needed
Chopped cilantro – as needed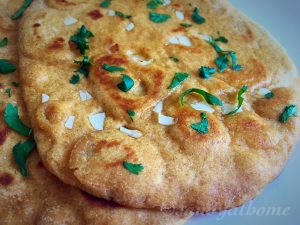 How to make oats garlic naan with step by step images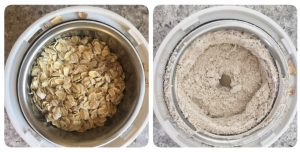 In a blender add oats and grind it into fine powder.

In a bowl add wheat flour, ground oats powder, baking powder, baking soda, salt , curd, milk and oil. Mix everything well and knead it into soft dough. ( I used only 1/3 cup water while kneading dough).
Allow the dough to rest for 1 – 2 hrs. ( This resting period will help dough to double in size).

Now pinch a medium portion of dough and flatten it into oblong/ tear shape with rolling pin. Now spread chopped garlic on it and roll it once with rolling so that the chopped garlic stays in place while toasting.

Now place the flattened dough on hot tava and drizzle oil/ butter around it. (You will notice the naan puffing little). When brown spots appear on one side flip it to the other side gently. When done transfer it to a plate and garnish it with chopped cilantro and serve.