This is an instant and easy halwa recipe and known for its glossy look. They feel like jelly with crunchiness from cashews with yummy taste. This halwa is prepared in microwave oven and takes only 20 minutes to make. Its yummy tasting and once you make these at home there will not be any need to run to the stores. So lets get to the making!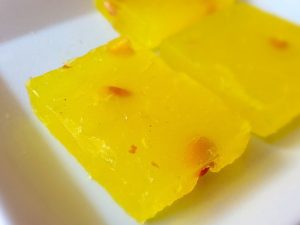 [sam id="1″ codes="true"]
Ingredients
[sam id="2″ codes="true"]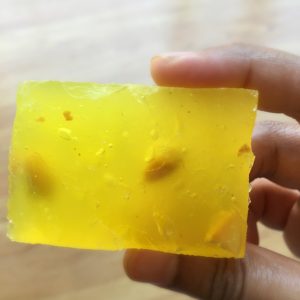 How to make Bombay Karachi halwa with step by step images
In a microwave safe bowl add corn flour, sugar, food color and mix well. Now add water to it gradually stirring continuously without form lumps.

Then pop it in the microwave for 20 minutes stirring it every 3 minutes.

Then heat ghee in a small pan and fry cashew nuts until golden brown. Now after 20 minutes add the cardamom powder and fried cashew nuts along with ghee to the cornflour halwa and mix well.

Now grease a tray or plate with ghee and pour the hot halwa mixture to it and spread it neat and clean. Allow the mixture to cool down for 1 hour.

After an hour grease a knife with little ghee and run through the halwa to make them into pieces and serve.
Notes
Proper measurements yield perfect halwa.
Mixing water and cornflour without lumps forms halwa with perfect texture.
Stirring halwa every 3 minutes taking from the oven prevents lumps.
Pouring hot halwa mixture onto greased plate helps in spreading and gives proper shape to it.
Fry cashews and Grease the plate when the halwa mixture is still in microwave as it speeds up the process.