Chicken dum biryani is a mouth watering one pot dish where spices play major role and its taste can never be substituted with any other food item according to me. Chicken dum biryani is a slow cooking process where the rice is steam cooked. I always prefer to prepare dum biryani over the regular biryani as its flavor and taste is distinct. So let get to the recipe!
Ingredients
Chicken – 1/4 lb
Fried onion – 1 cup
Mint – 1 cup
Cilantro – 1 cup
Curd – 1/2 cup
Green chili – 2
Clove – 1
Cardamom -1
Star anise – 1/2
Cinnamon sticks – 1/2
Bay leaf – 1
Ginger garlic paste – 1 tbsp
Red chili powder – 1/2 tbsp
Garam masala powder – 1 tbsp
Coriander powder – 1/2 tbsp
Turmeric – 1/4 tsp
Salt to taste
Ghee – 2 tbsp
Oil – 3 tbsp
Ingredients for rice
Basmathi rice – 2 cups
Mint leaves – 5 nos
Clove – 2
Cardamom -1
Star anise – 1/2
Cinnamon sticks – 1/2
Bay leaf – 1
Ginger garlic paste – 1/4th tsp
Oil – 1 tbsp
Salt to taste
ingredients For frying
Cashews – 6 to 8
Raisins – 5
Oil – 2 tsp
How to make chicken dum biryani with step by step images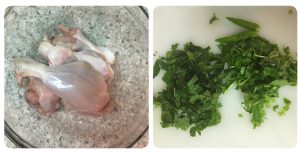 Wash and clean chicken. Chop cilantro, mint and make slit in green chili.
Fry cashews until golden brown and raisins until they puff in oil and keep it aside. Wash and soak rice in water.
In a bowl add washed chicken, chopped cilantro, mint, green chili, ginger garlic paste, salt, chili powder, coriander powder, garam masala powder, turmeric powder, curd and fried onions ; mix well and marinate chicken for 20 minutes.
Now in a vessel add water,few mint leaves, a pinch of ginger garlic paste, drops of oil, cloves, cinnamon, star anise, cumin seeds , salt and bay leaf ; allow it to boil.When the water starts boiling add the soaked rice and cook till 60% done.
Now in a heavy bottom vessel add oil and spices when aromatic add the marinated chicken and cook till soft and juicy.
Now lay rice over it and garnish it with mint, fried onion, fried onions , raisins and little ghee.Cook in low flame for 20 minutes or until its done.
Serve it hot with raita.